Concerned about elevated concentrations of lead in you CT water supply?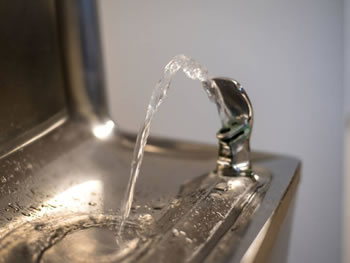 Lead in water occurs in areas with older water distribution systems, in older homes, or in homes that have corrosive water (low pH). Water coming from public water supplies must meet the USEPA Primary Drinking Water Standards for contaminants when it is distributed.
However, as water stands and travels in the service pipelines and in your household plumbing, it may accumulate dissolved lead along the way.
Throughout the early 1900s it was common to use lead piping for residential plumbing in Connecticut and for service connections to public water supplies. Since the 1930s, copper pipe has replaced lead pipe for almost all residential uses. However, lead-based solder was used to join copper piping until it was banned in 1985
As a result, older homes are more likely to have indoor lead plumbing or lead-based solder. In some neighborhoods, lead service lines connecting homes to water mains in the street still exist in CT.
Effects of Lead on People
Lead is a toxic metal that serves no known useful function in the body. Accumulation of lead can cause damage to the nervous or gastrointestinal system, kidney, or red blood cells. In extreme cases, it may lead to blindness, mental retardation, or death. Even moderate levels of lead may cause learning difficulties and stunted growth, or may endanger fetal development.
Most sensitive are:
In 1991, the USEPA changed the primary drinking water standard for lead to reflect concern about lead accumulating as water stands in pipes or plumbing. The previous standard of 50 parts per billion (ppb) applied to water as it was distributed from municipal water systems.
The new standard for lead is different from other drinking water standards and requires monitoring of lead concentration at high risk locations throughout distribution systems. The new rule requires that in at least 90 percent of the monitored households, lead levels at the tap must not exceed 15 ppb. The MDH has established a RAL of 20 ppb for private water supplies.
Removing Lead in Connecticut Water
Connecticut residents may not be able to remove lead completely from their drinking water supply, but the risk of exposure can be easily reduced. The cold water tap should be run for 2 to 3 minutes before using the water for drinking or cooking, especially first thing in the morning or after extended periods of not using the water faucet.
This flushs out the lead that has accumulated in the pipes overnight. Water from the hot water tap should not be used for cooking, baking, or preparing baby formula because EVER.  Hot water dissolves lead more readily than cold water. To obtain hot water for consumption it is best to use cold water and heat it on the top of the stove or in the microwave.
Replacing the old plumbing and/or lead solder will help reduce the levels of lead in drinking CT water, but may not eliminate it completely if there are lead service pipes. Replacing plumbing may also be very expensive. Point-of-use water treatment may be effective in reducing high concentrations of lead in drinking water as well. Two recommended treatment methods are reverse osmosis and distillation systems.
Residents living in an older home can have the water professionally tested by a water testing service or company. Lead in water tests measuring lead are especially important if you are pregnant or have small infants or children.
To see if your water contains toxic levels of lead call our CT water test specialists today.