Hard water is very common in CT and having a professional water test can help you determine the exact hardness you are dealing with so you can effectively treat it to suit your needs.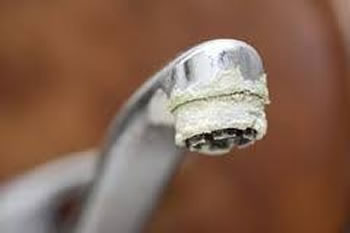 The term "water hardness" originally referred to the ability of water to precipitate soap and form soap scum. Soap is precipitated (or brought to the "surface") by water containing high levels of calcium and magnesium. The "harder" the water the less soap will lather or dissolve.
The total hardness is defined as the sum of the concentration of the calcium and magnesium ions, expressed as calcium carbonate. Hardness can be expressed as calcium carbonate in either parts per million (the same as milligrams per liter) or grains per gallon.
Since most water softeners are rated in grains of hardness removal, this is the more common measurement used by U.S. consumers. One grain of hardness equals approximately 17.1 ppm of calcium carbonate hardness.
Water hardness minerals are commonly treated with a water softener, which uses an ion-exchange resin and regenerates with salt. For residential and commercial applications these are the most effective as they remove the hardness minerals from your Connecticut drinking water.
Hard water creates scale build-up in pipes, fixtures, and appliances which is why a water softener is often needed if your drinking water is significantly  high.
Natural waters may range from close to zero hardness to many hundreds of parts per million. In our experience, in CT, water over 100 or 150 ppm (approximately 8 – 10 grains/gallon) is hard enough to warrant water softening.
When your water hardness exceeds 250 – 300 ppm, a water softener becomes somewhat of a necessity, as piping systems, water heaters, fixtures and appliances become scaled up and worn out prematurely. At levels of 100 to 250 ppm (or up to 8 to about 15 grains/ gallon) water softening is an aesthetic improvement, reducing spotting of fixtures and surfaces, and making hair and skin softer.
Softened water saves money by reducing the amount of detergent required for laundry and bathing, and by lowering the amount of energy required in electric and gas water heaters. Soft water leaves skin and hair softer and eliminates the drying effects of hard water minerals on skin and hair. Soft or conditioned water also stops mineral scales from forming in pipes and extends the life of fixtures, appliances and water heaters.
Hard water is one of the most common complaints of homeowners like you in CT and one of the #1 reasons they  have their water quality tested.  While hard water is not a health concern, it can lead to excessive scale buildup in water pipes, boilers, hot-water heating systems and other equipment that uses water.
An even bigger nuisance to most Connecticut homeowners is the fact the hard water does not clean laundry or dishes as well as soft water, and it requires more soap or shampoo to create suds.
There are several ways to test for hard water. The most accurate test is done through an independent water testing service.  A comprehensive water test can give you precise results in a timely manner so you have a clearer picture of  your water and it's hardness.  This will help you decide which corrective measures need to be taken if any.