Why test my CT well water for bacteria?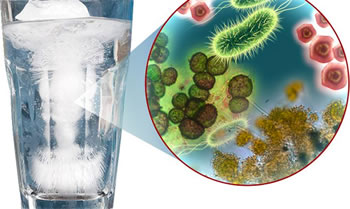 Coli forms are bacteria naturally present in the environment throughout Connecticut and all over.  They are used as an indicator that other, potentially harmful, bacteria may be present. Fecal coli form and E. coli are bacteria are more dangerous.  They indicate that your water may be contaminated by human or animal wastes which is very harmful to the health of you, your family and your pets.
Potential sources of bacteria in Connecticut water include:
Runoff from woodlands, pastures, and feedlots; septic tanks and sewage plants; and animals (wild or domestic).
Back flow from contaminated sources such as a sink-top carbon filter or bucket of water.
Reduced pressure or suction in water lines that draws in soil or sediment water at the pipe joints.
Faulty sanitary seals in the wells such as a loose well cap, grout around the well casing, etc are compromised.
While most coli forms are not pathogens, they serve as indicators of the quality of your water. Bacteria, and viruses that make people sick—can be rare and difficult to detect even if they are present in the water. Total coli forms are indicators and are more common and easy to grow. Testing for them provides a margin of safety.
Some coli forms may not make you sick but then again, some can.  Some strains of E. coli have been lethal, so their presence should be taken very seriously. Other health effects from bacteria can include diarrhea, cramps, nausea, headaches, or other symptoms. They may pose a special health risk for infants, young children, and people with severely compromised immune systems.
The best way to assess your well water for bacteria is to test it annually.
Drinking water tests should be performed by qualified water testing service or company in your area of CT to ensure precise, accurate results.  You health is worth it.
The U.S. Environmental Protection Agency Maximum Contaminant Level for coli form bacteria, fecal coli forms, and E. coli is zero.